Amy Orr-Ewing may be at home in the beautiful and often privileged location of Oxford where she was educated and still works, but she is no stranger to suffering. She has known deep pain and sadness in her own life, and in the lives of the people she has known and worked alongside in the Church. This book comes from a pastoral heart as well as a very rational mind, and is intended for those who are asking questions about God in the middle of their own suffering.
The focus of the book is the unique answer to suffering that comes from Christianity. Amy explains that that we are made in God's image, which is why we often feel such outrage at suffering and injustice. God loves us very deeply, he wants to hear how we feel and is present with us in our pain. This belief that people are valuable, because each one is made in the image of God, has driven many Christians around the world to care for the suffering.
Amy explains that suffering – even the vast majority of pain caused by natural events such as earthquakes and floods – is the result of human selfishness and wrongdoing, which ruins so many lives. This might sound like a desperate situation, but God promises justice for those who have suffered, at the same time as forgiveness for the perpetrator who wants to change. We can have hope, not only in the promise of help at the hands of God's people, but that one day he will make things right again
This book is full of stories of people in their suffering, and about the way in which Amy and her family have found that their faith helps them not just to cope but to respond in a positive way. She covers the whole range of suffering, from physical and mental illness to loss of a loved one, violence, disasters that happen after natural events, and the suffering caused by corrupt and unjust systems.
I found the theme of God's love, and the immense value of every person in his sight, very helpful. I appreciated Amy's very clear explanation of the reason for Christian hope. Throughout, she addresses the reader who is struggling with their own suffering, reminding them that their pain and their response to it matter to God. This isn't an easy read in terms of how the reader will feel, but the use of storytelling and very clear English make it an easy read in terms of time and concentration. I would recommend it to anyone who wonders where the answers are to the tough questions about God and suffering that so many people are asking in this country today.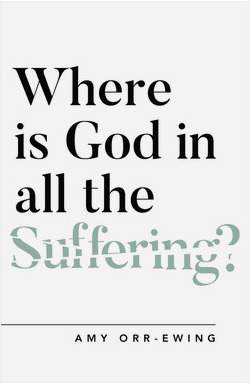 Where is God in all the Suffering? by Amy Orr-Ewing (2000), 134, £7.99, is available from the Good Book Company.