The Faraday Institute for Science and Religion invites you to a fascinating talk on the entangled histories of science and religion.
Dr Nick Spencer will introduce his forthcoming book Magisteria: The Entangled Histories of Science & Religion (Oneworld, 2023). The talk will be followed by a Q&A session. A free drinks reception will be available after the event in the Old Library, Emmanuel College.
---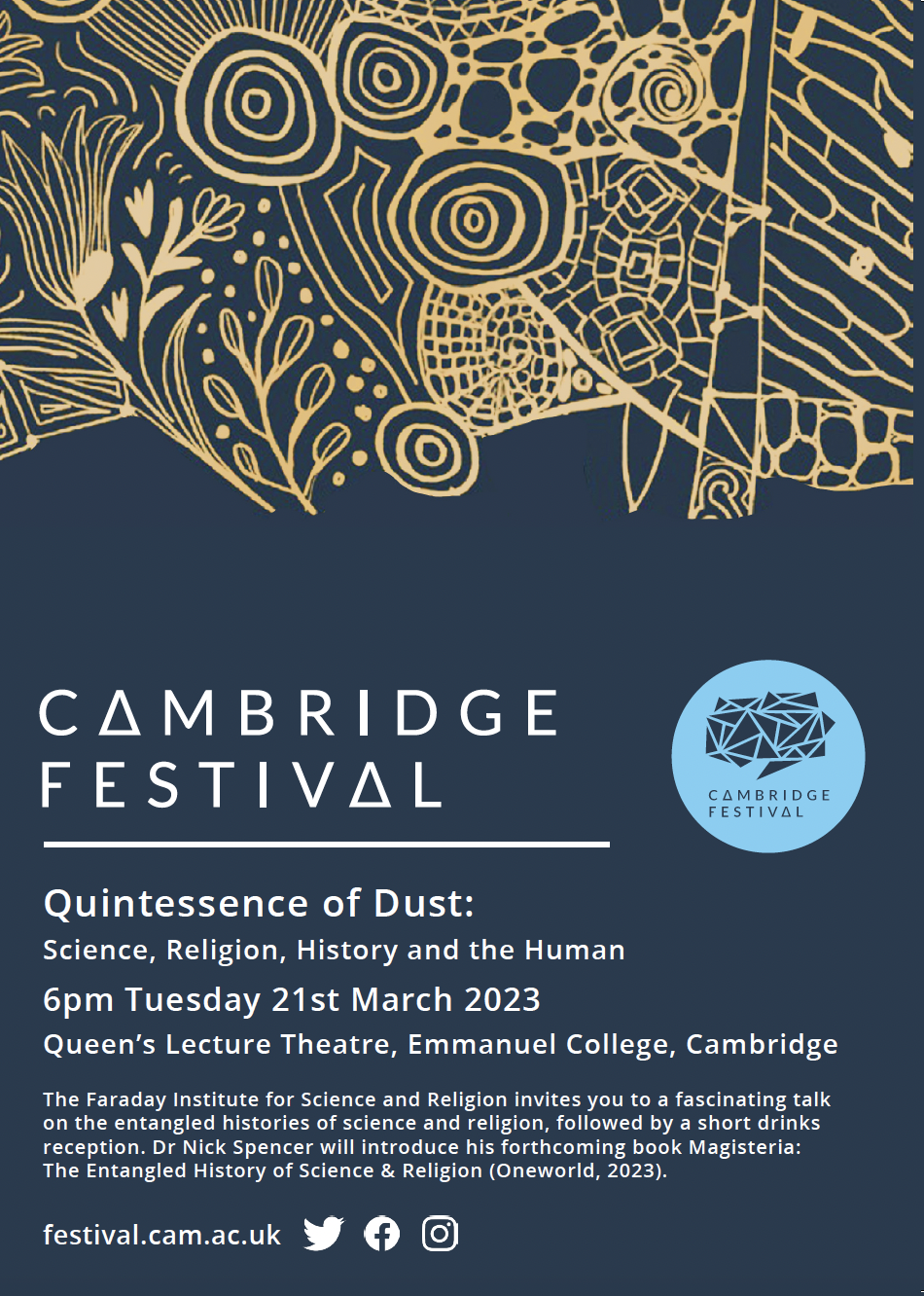 Book Abstract
Science and religion have always been at each other's throats, right?
Most things you 'know' about science and religion are myths or half-truths that appeared over the last years of the nineteenth century and remain stubbornly widespread today.
The true history of science and religion is a human one. It's about the role of religion in inspiring, and strangling, science before the scientific revolution. It's about the sincere but eccentric faith and the quiet, creeping doubts of the most brilliant scientists in history – Galileo, Newton, Faraday, Darwin, Maxwell, Einstein.
Above all it's about the question of what it means to be human and who gets to say – a question that is more urgent in the twenty-first century than ever before.
From eighth-century Baghdad to the frontiers of AI today, via medieval Europe, nineteenth-century India and Soviet Russia, Magisteria sheds new light on this complex historical landscape.
Rejecting the thesis that science and religion are inevitably at war, Nicholas Spencer illuminates a compelling and troubled relationship that has definitively shaped history.
Nicholas Spencer is Senior Fellow at Theos. He is the author of a number of books including Darwin and God, The Evolution of the West and Atheists. He has presented a BBC Radio 4 series on The Secret History of Science and Religion, and has written for the Guardian, Telegraph, Independent, New Statesman, Prospect and more.