How can we make sense of the event that so many people around the world are celebrating today? In today's post, Revd Dr Rodney Holder explores the deep significance of Christ's birth.
In the beginning was the Word, and the Word was with God, and the Word was God. He was with God in the beginning. Through him all things were made; without him nothing was made that has been made. In him was life, and that life was the light of all mankind. The light shines in the darkness, and the darkness has not overcome it. There was a man sent from God whose name was John. He came as a witness to testify concerning that light, so that through him all might believe. He himself was not the light; he came only as a witness to the light. The true light that gives light to everyone was coming into the world. He was in the world, and though the world was made through him, the world did not recognise him. He came to that which was his own, but his own did not receive him. Yet to all who did receive him, to those who believed in his name, he gave the right to become children of God – children born not of natural descent, nor of human decision or a husband's will, but born of God. The Word became flesh and made his dwelling among us. We have seen his glory, the glory of the one and only Son, who came from the Father, full of grace and truth. [John 1:1-14]
Our Advent waiting and longing come to fulfilment today as we light the final candle on our Advent wreath. Having lit the four red candles for the patriarchs, prophets, John the Baptist and Mary, now we light the final white candle for Christ himself, 'the light of the world'. In the wonderful Christmas Eve Service of Nine Lessons and Carols from the Chapel of King's College, Cambridge, this Christmas Gospel reading is announced with the words, 'St John unfolds the great mystery of the incarnation'. And so he does. Matthew and Luke give us the narratives of Jesus' birth. Of course they also give some explanation, especially in the angelic messages, of what is happening, but John, probably writing at the end of the first century, gives no narrative. Instead he reflects on all that has happened since Christ's birth, including his resurrection and the Church's expansion in the power of the Holy Spirit. Hence he writes the deepest theological explanation of all about what has happened—and it is truly staggering.
John's profoundly theological account of the incarnation reminds me in some ways of how science works by piecing together separate pieces of evidence and unifying them in an over-arching theory. For example, James Clerk Maxwell, in the nineteenth century, united the phenomena of electricity and magnetism into a unified theory of electromagnetism. From his theory all the diverse phenomena follow as logical consequences. In a somewhat similar way, John does not need to repeat the well-known nativity stories. Instead he gives an explanation of who Jesus is, which shows why his birth might have been very unusual—why it might have been heralded by angels, and even why a virginal conception would be appropriate.
The opening words, 'In the beginning', take us right back to the first words in our Bibles. In Genesis 1 God spoke creation into being, and now we learn that his Word is a person who was both with God and was God. This is the eternally pre-existent divine Word, the agent of creation. Greek readers of the gospel would have identified this Word (Greek: logos) with the rational principle of order behind the universe. It is utterly astonishing that a first-century monotheistic Jew could write in these terms, especially when later we read that this pre-existent Word, coexisting in the beginning with God, and being God himself, becomes flesh.
The only way the Church could resolve the tension here between monotheism and Jesus' divinity was through the doctrine of the Trinity, promulgated at the Council of Nicea in AD 325—that we believe in one God who is 'Father, Son and Holy Spirit'. This isn't some philosophical abstraction of no importance for our daily lives; it is essential for our salvation. It is because God became human in Jesus Christ that we can become both the true humans we are meant to be and 'participants in the divine nature' (2 Peter 1:4)—surely a mind-blowing thought.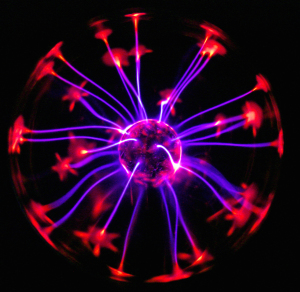 A theme running through John's gospel, beginning with verse 4 here, is light (described in physics, incidentally, by Maxwell's equations). As God said at the creation, 'Let there be light' (Genesis 1:3), so Jesus proclaims, 'I am the light of the world' (John 8:12). In the villages where I was a curate, there was no street lighting. This was marvellous for stargazing, but a real problem for anyone wanting to get about after dark.
I remember visiting an old lady one winter's evening, stumbling through puddles, tripping and getting wet, and having great difficulty in unlatching the gate to approach her house. I needed a light to guide me in the darkness, but had forgotten my torch. We all need a light to lighten the path before us in life. We need light in our daily lives to enable us to flourish, to become true humans. The light shining into our hearts may be an uncomfortable spotlight at times, when it reveals some of the uglier things within. That is why some shun the light ('people loved darkness rather than light because their deeds were evil', John 3:19), but how much better for our blemishes to be illuminated so that they can be removed. When that is done, we can shine as lights in the world ourselves, reflecting back the light of Christ within us.[i]
Tragically, the creator of the world was rejected. The first and greatest of all Christmas gifts was spurned. People did indeed shun the light. Even 'his own people' did not accept him, but the extraordinary thing is that 'to all who did receive him, to those who believed in his name, he gave the right to become children of God' (vv. 11-12). As we receive our Christmas gifts today, let us reflect again on that greatest of all gifts, God in human flesh, and on what an amazing privilege it is to be a Christian—to partake in the divine nature, to be fully alive, to be lit up and reflect the glory of God, to be a child of God. Isn't it sometimes overwhelming to realise all these riches we have in Christ?
For reflection
Moonless darkness stands between. Past, O Past, no more be seen! But the Bethlehem star may lead me To the sight of Him who freed me From the self that I have been. Make me pure, Lord: Thou art holy; Make me meek, Lord: Thou wert lowly; Now beginning, and alway: Now begin, on Christmas day.
                  Gerard Manley Hopkins
 This is an extract from Dr Holder's book, Longing, Waiting, Believing: Reflections for Advent, Christmas and Epiphany, reproduced here with permission of both author and publisher. [i] See Philippians 2:15; also 2 Corinthians 3:18, where the translation 'reflecting the glory of the Lord' is to be preferred to 'seeing the glory of the Lord as though reflected in a mirror'.