The universe is an incomprehensibly large and beautiful place. Looking up at the night sky has moved Christians throughout history to worship the God who made it all. Are there any challenges to faith when we look more closely? How far should we go in exploring it? Can we justify doing multi-billion dollar research when there are so many more immediate problems in the world? Jennifer Wiseman has a unique personal perspective on these issues, having spent her career working on research in astronomy, and then at a government level on public policy and national science oversight, before returning to lead an astrophysics research group at NASA's Goddard Space Flight Center, one of the world's best known space research centres.
My life began quite far from the formal world of science. I grew up on a small family cattle ranch in Arkansas which is a rural state right in the middle of the United States. My parents did not go to university (they didn't have the means to do that) but they were very supportive of their children getting higher education, so we all did. One thing that got me interested in space was just looking up at the sky and being amazed by it. We would go on a walk every evening up and down the country lane that leads into the farm. Far away from any city lights, it was so dark that you could see a huge number of stars…There was this whole universe of exploration and I was just enamoured by what was out there that we had not yet discovered…
I had been baptised at age ten or eleven and was sincere about it. I had experienced what I believe is the love of Christ and seen the genuine love and presence of Christ in other people. So there wasn't anything that I could be presented with in my science classes that would have put any doubt in my mind about God. It was an outpouring of my faith in God and my amazement at creation that made me want to learn more and more about what was out there. Since then my Christian faith has been a matter of learning how to follow Christ in very different settings from where I grew up: What does it mean to be a Christian in a scientific setting, on Capitol Hill or at NASA?…
I was very keen on finding other Christians wherever I went to study. I was very grateful in graduate school that we had a strong group of Christian students and there were some staff workers with the group there: you might call them chaplains. They were very influential in introducing me to the idea of doing scientific research as a means of serving God and as a means of pleasing God in and of itself, not a separate thing…it's been my experience that there's not much overt hostility toward faith, or even in particular Christian faith, in the professional field of astronomy. I think the reason is because there's actually not much theological conflict between the Christian idea that there's an ordered universe that had a beginning and our current scientific understanding of the universe…
I think in many career paths you need to reflect every once in a while and ask, 'Is what I'm doing worthwhile? Given that there are such terrible problems in the world, if I'm not directly addressing one of them, is it worthwhile for me to be doing anything else?' The answer for me has always come to this: I believe God gives us different talents and interests for a purpose, and we are to use our talents in different ways. I believe God gives some people keen interests in art or science for the purpose of uplifting the human spirit through discovery and exploration. I don't think that God created an entire universe and then wants us to ignore it until we figure out all our problems here on Earth. If you look at the very beginning of our biblical record, one of the first things that God asked the first human to do was to look at all the animals and name them. There is a sense of God saying, 'Look at what I've created! I want you to go out and be as excited about it as I am, and to explore and understand these different creatures that I've made!' I think we can take that story and expand upon it. Christians believe that God is responsible for the entire universe, so wouldn't he be disappointed if we didn't even have the curiosity to go and learn? I believe that scientific exploration is a way of glorifying God by exploring what he has created.
We're told not to be overcome by evil but to overcome evil with good. I think there are at least two ways that we can do that in this world and we need both. One is to directly address the suffering of humans and all creation: stopping war, protecting the fragile, bringing food to the hungry, and bringing justice, compassion and freedom to the oppressed. The other is to provide alternative ways to focus our human energy and talents that are positive, that bring joy, and bring praise to God. One of those ways is science and scientific exploration. We need to conduct our science ethically and to use our scientific and technological advances for good and uplifting purposes. And we need to make sure that we share our discoveries with people of the world who may not otherwise get a chance to share in the joy. We are all part of a majestic and magnificent universe just waiting to be explored, perhaps mostly with telescopes, minds of curiosity, and hearts of praise.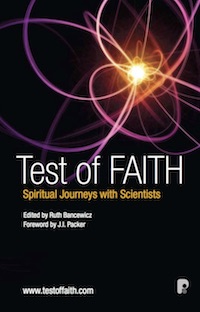 Extracts from Chapter 3, "Exploring God's Universe", in Test of FAITH: Spiritual Journeys with Scientists by Ruth Bancewicz (Paternoster, 2009; Wipf & Stock, 2010). Used here with permission of the Publishers and Jennifer Wiseman.