Is it sometimes ok to dance in the midst of mourning? Is there time to laugh, or only to weep?[1]
On Earth Day 2017 I joined a worldwide celebration of a concept not usually featured in conservation news: hope. 'Surely this is no time for celebration?', you may think. If you're even slightly interested in the natural world then I am sure you've heard about – or experienced – the many crises facing our home planet. Perhaps you've inadvertently watched heart-breaking footage online, visited a regular and sadly altered holiday spot or read news articles suggesting we are 'past the point of no return'.
These headlines are not surprising, given the threats facing the natural world, but are they the only narrative? Earth optimism day was a chance to take a break from doom-and-gloom and celebrate the victories won in conservation, giving air time to inspirational stories of success and hope.
The Earth Optimism event in Cambridge was just one in a series of similar gatherings worldwide. As I sat and listened to a stream of short presentations in the new David Attenborough building , the day lifted my heart both as a conservationist and a Christian. I felt that what we do here at Science and Belief is a necessary parallel to the Earth Optimism movement, focusing on positive interactions between science and religion that would be otherwise buried in a sea of louder issues. There is a time and a place for concentrating on positive experiences, flourishing relationships and scientists' personal stories. Far from naïve cherry-picking, this sort of storytelling helps to balance the rhetoric, encouraging scientists working in discouraging fields, and empowering the general public to take heart and make an effort.
Freed from their usual academic format, the scientists at this Earth Optimism event brought us news of success around the world. Dame Jane Goodall started the day with a rousing rendition of how chimpanzees greet the day, before sharing her lifetime's work and insights from the field. Jane grew up passionate about studying wildlife in Africa and so, by the age of 23, she had saved enough money for a boat trip to Kenya. Here Jane met and impressed scientist Louis Leakey and, hired as his assistant, she was finally moving into the field – a trip to Tanzania which led to her studying wild chimpanzees. As the family of chimps opened up to her, she observed tool-making, described distinct personalities as well as their capacity for compassion and cruelty. Beyond her contributions to science, she found herself shaped her into an animal rights activist. The Jane Goodall Institute is now leading the conservation of chimps and their environment, as well as establishing community-centred development programmes in over 130 countries.
We heard how Brazil has reduced deforestation in the Amazon by 80% in the last 10 years; how species are being brought back from the brink of extinction; of the significant rate of increase in marine protected areas, and how drones and wave-powered gliders are helping patrol larger areas than ever before. Closer to home is also the little known fact that the UK (including overseas territories) is the 5th largest maritime, and 13th largest coral, nation in the world and is making some exciting commitments for marine protected areas in the future.
All of these stories (and many more, available online) came with the caveat that we still need to do more. The positives could only be understood in the context of current pressures or large losses in the past, but the overall effect was one of encouragement and motivation to continue the hard work of conservation in a spirit of hope.
Margaret W. Miller is a marine biologist collaborating with us on our Wonders of the Living World project who has also spoken to us about hope. As a coral ecologist, she studies how coral systems interact with their environment and other species, including humans. Unfortunately, she says, 'much of what we observe them doing in the world is dying.' Living in a dynamic globally interconnected ocean, restricted to shallow waters and unable to move, corals are vulnerable to a dauntingly large variety of threats.
As a Christian Margaret keeps going in this seemingly discouraging setting through her conviction that a) God has given us a responsibility to tend and care for the world and b) that God has a vested interest in the functionality, diversity and productivity of his good creation. This leads her to think of conservation as a partnership with God, supporting her in her efforts and sustaining her hope that we can help groaning ecosystems.
I think this can, and should, serve as the ultimate earth optimism and motivation for Christians. Rather than an excuse for complacency (which is an easy trap to fall into when you believe that you have God in your corner), I hear it as a call to take our responsibility more seriously based on our unique and God-centred hope.
Whenever we are tempted to think the conservation cup is half empty, please remember that a lot of hard work is keeping it from being much worse, which I think makes it half full. These efforts are worth celebrating. If, as I believe, God takes even more pleasure than us in a flourishing creation, then he was very much glorified on Earth Optimism day.
————
Further reading
A blog article by theologian and environmentalist, Ruth Valerio, as part of her blog series: Communicating Hope.
A blog article by A Rocha's Dave Bookless on #ConservationOptimism, based on London Earth Optimism events.
If you have a Church Times subscription: an honest and relevant interview with Ruth Valerio.
[1] A loose paraphrase of Ecclesiastes 3:4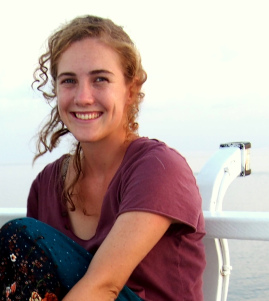 Cara Daneel is a Research Assistant supporting the work of Dr Ruth Bancewicz at The Faraday Institute. After receiving her Marine Biology and Oceanography degree from the University of Cape Town, South Africa, Cara has worked in conservation and education in a variety of countries; both in the Northern and Southern Hemispheres.